Dedicated Restoration Experts
Our Water Damage Restoration Process
Every water damage restoration follows a standard set of stages from the initial examination through restoration completion, regardless of the location of the damage, what caused it, or what sort of water was used. 
Following this predetermined procedure will guarantee that the water has been completely evacuated, the damage has been evaluated, repairs have been completed, and the area is now safe for you to reoccupy.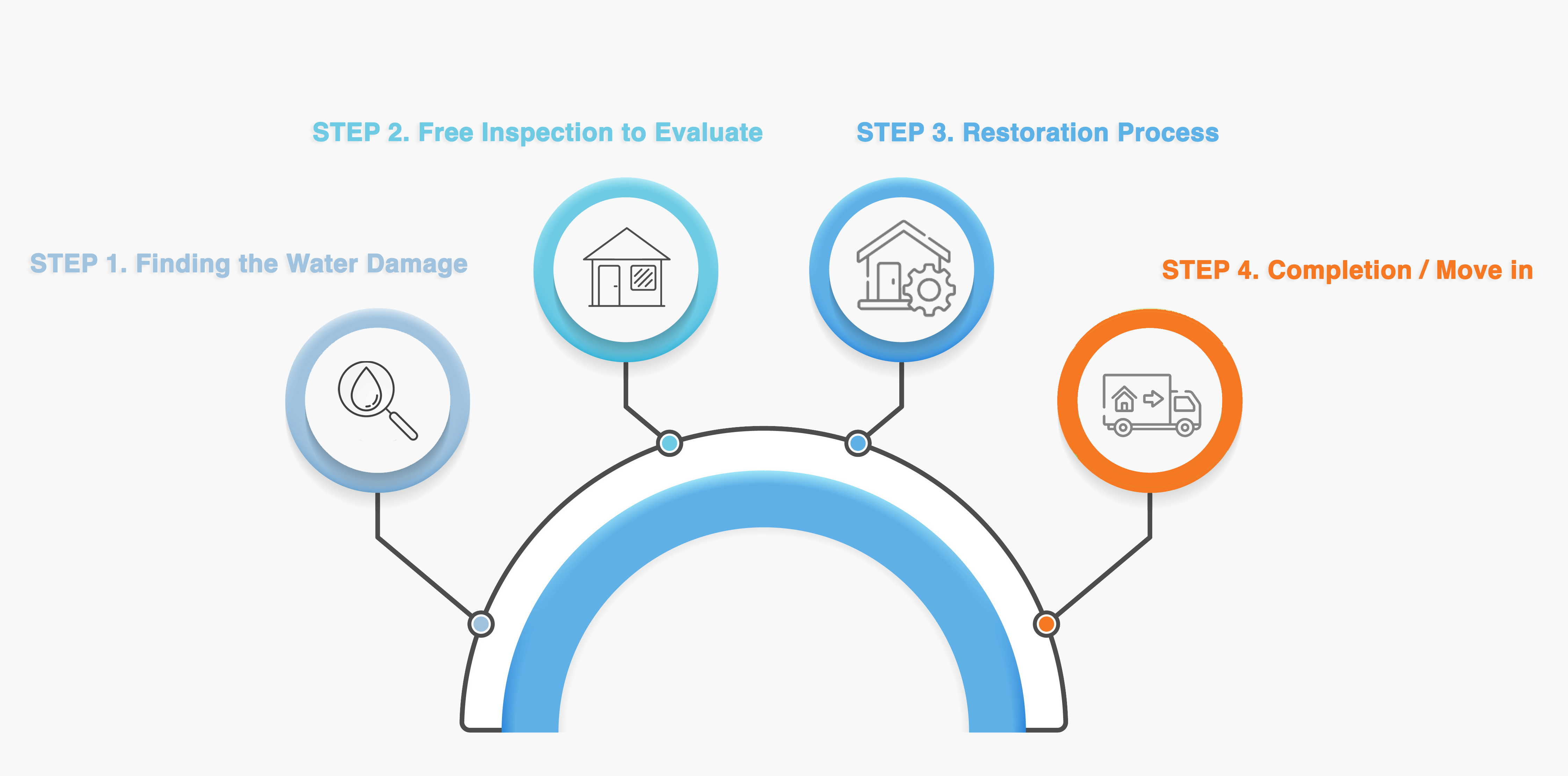 Step 1. Finding the Water Damage
Damage occurs.

Call us at

(720) 340-3499

anytime during day and night for emergency services.

We're on property site within 30 to 90 minutes.
Step 2. Free Inspection to Evaluate
We evaluate the damage. Any health and safety issues are addressed immediately.

We document and establish the condition of your property at the time of damage occurs.

We prepare an estimate with the general scope of work.
Step 3. Restoration Process
The project manager will be the main point of contact during the water damage restoration project.

We schedule and manage material selection, delivery and quality control.

Restoration begins. We restore following state health and safety rules and regulations.

We use industry standard best practices to stabilize the property in instances of water, flood, and mold propagation. We perform a deep cleaning and sanitization of the damaged areas.
Step 4. Completion / Move in
Establish quality control with you.

Address concerns if any.

Final inspection.

Complete final paper work to close the insurance claim if needed.
Insurance Claims Process (if that the case)
We help you navigate the claims process with your insurance company.

We build an itemized scope of work more detailed and send it to you and the insurance company.

We work with you and the insurer representatives to evaluate and update the restoration project cost estimate if needed.

We coordinate and schedule the water damage restoration project.
Any concerns?
We know the process could be overwhelming. The journey from damage to full restoration and move-in ready can be long and frustrating. At Revive Restoration, we answer all your questions during the process and ensure consistent communication for your peace of mind.
Talk to your water damage restoration professionals anytime during the day or the night at (720) 340-3499.
Take a deep breath and stop overthinking about water damage repair.
Start Saving Money Today!