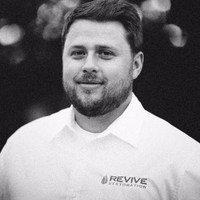 Reliability

– we respond quickly to water damage calls.

Experience

– our experts have over a decade of experience.

Frequency of Communication

– we'll keep you in the loop about your property. We'll update you on the progress of your water restoration project consistently, so you won't have to wonder what's going on.
Revive Restoration LLC, is a family owned and operated company operating out of Northern Colorado since 2016. We believe that as a small business, strong relationship with our clients, and high-quality workmanship would better serve our communities.
We offer water damage restoration, mold damage restoration, clean up and remodel services. Regardless of how small or big the damage, we are committed to satisfy all of our customers. Read more of our testimonials.
Reach out, we would love to talk to you today. We are looking forward to working with you.
Levi Dolifka
CEO
Born and raised in Northern Colorado, Levi believes in providing exceptional service and quality to his hometown community along the Front Range. Levi graduated from Windsor High School and has a Bachelor of Science in Construction Management at the Colorado State University. Revive Restoration, LLC is IICRC certified in Water Damage.
Take a deep breath and stop overthinking about water damage repair.
Start Saving Money Today!